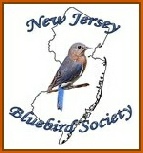 President - Allen Jackson
<click Allen was born in Georgia and raised in Rhode Island where he credits his parents with instilling his love of
nature. A wildlife biologist, he retired from the US Fish and Wildlife Service in 2002. He attended URI and graduated
from the University of New Hampshire in 1974 with a B.S. degree in Game Management. His career took him from the EPA in Washington, DC to Newton Corner, MA as the USFWS's Regional Pollution Response Coordinator, and eventually to their Division of Ecological Services in southern NJ in 1981, where he met and married Wilma in 1995, settling in Millville.
Known for his work with Purple Martins, Allen obtained a master banding permit and concentrated on Purple Martins. More significantly, he learned the importance of proper management in restoring martin populations. Also involved with bluebirds for many years, Allen began focusing on this species when lack of proper management was an obvious problem. He initiated efforts to establish the N.J. Bluebird Society and is a relentless advocate of proper management, promoting management as the key to the bluebird's future. He has over 600 boxes in southern NJ, established 30 trails (with monitors) and erected countless boxes at individual residences. He maintains a trail of 70 boxes and bands over 1,000 bluebirds each year. Besides NJBBS and NABS, he maintains membership in the Bluebird Society of Pennsylvania, the Tennessee Bluebird Society and the Bluebird Restoration Association of Wisconsin in his quest to continue educating himself about bluebirds.
He received the Purple Martin Conservation Association's 2002 Landlord of the Year Award and in 2013 the President's Volunteer Service Award and the Lifetime Achievement Award from Citizens United to Protect the Maurice River and its Tributaries for his environmental activities.
Vice President - Jim Newquist
My interest in our local environment was heightened eight years ago when I participated in and completed the project requirements for the Environmental Steward Training Program. During my thirty-eight years as an educator, I met Brice Barbour, who was the Agriculture and Resource Agent for Rutgers Cooperative Extension of Morris County (barbour@aesop.rutgers.edu). As a graduate of this program I became knowledgeable about the basic processes of earth, air, water and biological systems. I was taught to recognize the elements of sound science and public policy based in science while acquiring a sense of the limits of current understanding of our environment. The goal of the Rutgers Environmental Stewards Program continues to give graduates knowledge to expand public awareness of scientifically based information related to environmental bluebird related issues and facilitate positive change in my community of Mt. Olive Township.
I have been involved with the Rutgers Cooperative Extension Program of Morris, Sussex, Essex and Warren counties collectively for approximately forty years. I have served as an adult Volunteer in the capacities of 4-H Resource Science Person, an Adult Club Leader, County Representative for the NJ 4-H Leaders Association, and recently as the Vice President of the Morris County Leaders Association. I am currently serving as a new Club Leader for an environmentally focused club, "BACKYARDS AND BEYOND". All of the environmental related activities revert back to the training that I received from thru Environmental Stewards Program.
My involvement with the New Jersey Bluebird Society has enabled me to meet folks who are dedicated to preserving wildlife and further develop bluebird awareness in our county and state. This interaction will enable me to bring environmental awareness to our youth and families in an inquiry, informal based educational setting as a result of our outreach programs. I am looking forward to the many challenges that these opportunities will create as I serve as the new Vice President of the NJBBS.
Treasurer - John Layton
<click Born in Atlantic City NJ, John has lived in Atlantic County his entire life (74 years). Married to high school sweetheart Dottie (English) Layton for 52 years they have three sons and three grandsons. John graduated from Pleasantville High School in 1958.
John has been involved with Bluebirds since 1989, and began monitoring and banding in 1998. Currently he has a trail of 97 boxes, which averages 175 bluebird fledges per year, as well as other cavity nesters. As a retired union carpenter he has built close to 700 bluebird houses. Since 1989 John has banded and fledged almost 2,000 bluebirds from his own trails, and continues to enjoy learning from Bluebirds every day.
John was instrumental in establishing the Egg Harbor Township "Retention Basin Project", for which he was named E.H.T. 2008 Environmental Person of the Year. John is a member of North American Bluebird Society (NABS), Bluebird Restoration Association of Wisconsin (BRAW) and Atlantic Audubon Society.
John has had many articles about his bluebird activities published in the press of Atlantic City and area weekly newspapers . John wrote an article about his involvement with the E.H.T. Retention Basin bluebird trails which was published in the 2014 spring edition of Bluebird Magazine (NABS).

Secretary - Shelly Cucugliello
<click Shelly m
anages a small trail at her home in Pittsgrove, Salem County. She works as a certified educational sign language interpreter. Besides bluebirds, Shelly enjoys working with horses and trips to Stone Harbor.