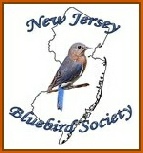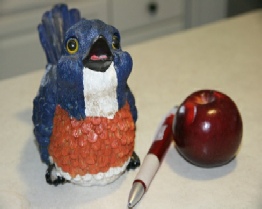 <click…Bubba (the BlueBird) has been an outspoken member of the NJBBS since 2014. He accompanies Allen Jackson at bluebird presentations and has become a positive influence within the organization. Look for words of wisdom as he puts pen to paper in his "Bubba Speaks" articles. ( Click here for past Bubba articles)
1. What is the name of the 1946 Disney movie in which the song
"Zip-A-Dee-Do-Dah" won the academy award for best song?
2. What does this have to do with bluebirds?
Answers -page bottom
Click to listen & watch > full video version
1) Movie: Song of the South
2) The verse and animation: Mr Bluebird's on my Shoulder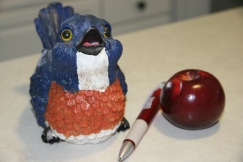 Allen Jackson, President New Jersey Bluebird Society
aljaxn@aol.com or 609 805-4073
Bubba Speaks #6 v. Dec 2015
NJBBS PARTNERS WITH GLOUCESTER COUNTY NATURE CLUB:
On November 8, 2015 Dave Gilcrest, NJBBS's Gloucester County Coordinator and Allen Jackson worked on an environmental improvement project at Alcyon Park in Pitman with the Gloucester County Nature Club (GCNC). A work crew of 14 GCNC members volunteered for the project which involved removing invasive plants (callery pear, tree of heaven, Russian olive, multiflora rose). These invasive plants were beginning to outcompete important native plants. All vegetation that was cut that day was removed by Alcyon Park employees who provided 2 dump trucks to support the project. After the invasive plants were removed, 6 elderberry, 6 arrowwood, 2 spicebush, 1 serviceberry and 1 American holly were planted, all fruit-bearing native plants important to wildlife. This helped supplement native shrubs already established at the site. In addition to supplying the labor for the project, GCNC provided financial support to purchase most of the native plants purchased from Clemenson Farm Natives Nursery in Estell Manor, Cumberland County. Earlier in 2015, NJBBS located 4 bluebird boxes at Alcyon.
Other NJBBS/GCNC projects include placing 2 bluebird boxes at Chestnut Branch Park in Mantua Township. Permission is being sought to start a purple martin colony there in 2016. Maple Ridge Park, also in Mantua Township, was recently purchased and efforts will be made in 2016 to locate bluebird boxes there and investigate other potential projects.
Both Allen and Dave have worked with GCNC members to provide technical assistance to those who requested it, including banding bluebirds at sites within the County. Dave maintains both bluebirds and purple martins at his residence and is involved in many other projects in Richwood, Mullica Hill, Sewell, East Greenwich and Mantua Township. His presence greatly enhances our opportunities in Gloucester County.
NJBBS members should consider investigating if similar projects could be done in their areas. We can consolidate an order thru Clemenson Farm Natives Nursery for the fall of 2016. Contact Allen Jackson if you have any questions.
BUBBA Speaks #7 Jan 27, 2016
HAPPY NEW YEAR - NJBBS MEMBERS:
Looking ahead to the 2016 nesting season, let's keep our fingers crossed the winter is not too hard on our bluebirds. While the past 2 winters had a direct (winterkill) and an indirect (reproductive suppression) impact on our bluebird population, a good number of bluebirds produced young during the 2015 nesting season. I am, however, seeing an average 30-40% reduction in numbers fledged last year in southern NJ, with some trails not producing any bluebirds and others producing good numbers. I am still getting reports in for the 2015 season so have not finished the report of last years breeding season. Right now all we can do is wait and see what happens in 2016.
The NJBBS is always looking to increase our membership and improve our organization. Gary Pilling is working on a pamphlet to hand out at various events, including: a talk in Franklinville February 4; the Feb. 6, 2016 Eagle Fest in Mauricetown; a March 10 training session at FREC in Jackson; and, the Bluebird Festival in New Egypt is May 7, 2016. It will be available for those who have events planned.
We need help in the following areas:
* Someone to produce a newsletter twice a year. Computer experience is required. I have newsletters from Tennessee and Pennsylvania as possible examples.
* We are always looking for County Coordinators to coordinate activities in their respective areas. Activities could include presentations to civic groups, organizing community projects (similar to the Alcyon Lake project), establish bluebird trails, or promote proper bluebird management.
Dave Gilcrest, Gloucester County Coordinator recently agreed to assume responsibilities coordinating the collection of data for NJBBS's annual bluebird production. We are working on a simplified form that can be downloaded and mailed to Dave by October 1 of each year. More info to follow.
We are progressing in many areas, including: making contacts with Picitanny Aresnal, Joint Base McGuire-Dix-Lakehurst, Colliers Mills Wildlife Management Area, Duke Farms, partnering with Gloucester County Nature Club, Ocean and Atlantic County Parks, Atlantic Audubon Society, and Citizens United to Protect the Maurice River to name a few. The Great Swamp National Wildlife Refuge is and has been very involved benefiting bluebirds on their refuge.
We have a convenient place in central NJ (FREC) to hold meetings, NJBBS now has representation on the NABS Board of Directors, and I am always working on establishing more bluebird trails with monitors. I hope to organize more plantings of native berry producing shrubs in 2016. We should have some matching money in our treasury to promote this approach. Let's not sell ourselves short. Get involved, become active and make promoting bluebirds a routine part of your lives. People love bluebirds!
We are only as good as our members. As our membership grows so will our professionalism and abilities to improve our organization.