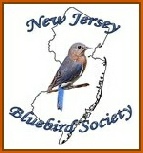 EVENTS:
COME ONE, COME ALL
WHEN: Saturday, November 14, 2015 (10:00 to 2:00)
WHAT: New Jersey Bluebird Society (NJBBS) Meeting
WHERE: Forest Resource Environmental Center (FREC)
495 Don Connor Blvd.
Jackson, NJ 08527
732 928-0987
A meeting and open house has been scheduled for all NJBBS members and interested people to evaluate the 2015 bluebird season and plan for 2016. Following an officer's meeting in the morning, refreshments will be served and a more informal setting will allow you to meet others and participate in ways to benefit bluebirds in NJ. We can discuss training needs, demonstrate house sparrow control devises, and address any important issues.
A proposed agenda is attached. FREC has provided a great meeting location inside their interpretive center. The officer's meeting will commence at 10:00 and is open to all interested members. We will try to limit the meeting to 2 hours but will afford more time for important issues. We have the room reserved until 2:00 but can extend the hours as necessary.
Please rsvp (aljaxn@aol.com) so we can plan for refreshments. - Wisdom Begins With Wonder
Directions:
FREC is located 2 miles east of the Jackson township municipal complex at the corner of Rt 528 (veterans highway) and Don Connor Boulevard, Jackson, Ocean County, NJ. Our meeting will be held in the interpretive center off Don Connor Blvd.
BLUEBIRD CARE:
March
Check boxes-clean or repair

Relocate problem boxes

Bluebirds claiming boxes - some begin building nests



April